Hitlers Ignored Secret Objects
Hitlers Ignored Secret Objects is the story of the ongoing investigation of the history detective Henry Hatt in the mountains of Souther Thuringia, Germany. Hatt found out that more than 30 underground slate mines had been used as a shelter for important war productions but also to hide valuables...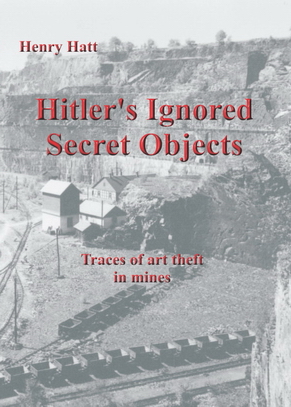 Chapter 1
The bandits and their treasures - The treasure of Eichmann in Merkers - The looted art collection of Göring - The looted art collection of Koch - The Amber Room on its odyssey
Chapter 2
First Clues - The exploration of underground rooms - The "Gentlemen" of Castle Lauenstein - The brewery Falkenstein - The headquarters of Gauleiters Koch
Chapter 3
Secret Object "Rotbutt" - a death factory - The "Cellar Action Jena" - Secret Object "Zingel" of IG Farben - Secret Objects of the Navy - Secret Objects of the Air Force - Mysterious slate mines
Chapter 4
The mistakes of different gentlemen - The explained blasts - The unexplained blasts - Mysterious transports - Further unexplained happenings - Slate mines in service of the "Stasi"? - The experimental department Rauschenbach - BSCH - the B-dump near Schmiedebach?
Chapter 5
Analysis of the 10 top hiding places - The KAKTUS group develops - Cooperation with the Media - Appeal to the people - Epilog - Warning
Appendix
List of people being present on Castle Lauenstein - Code names of 20 secret objects - List of names - Sources and literature - Last message

ISBN: 978-3-732293-76-6
168 pages, several pictures and mine plans